Collect Medicine and Healthcare Data from Website like 1mg Using Web Scraping Services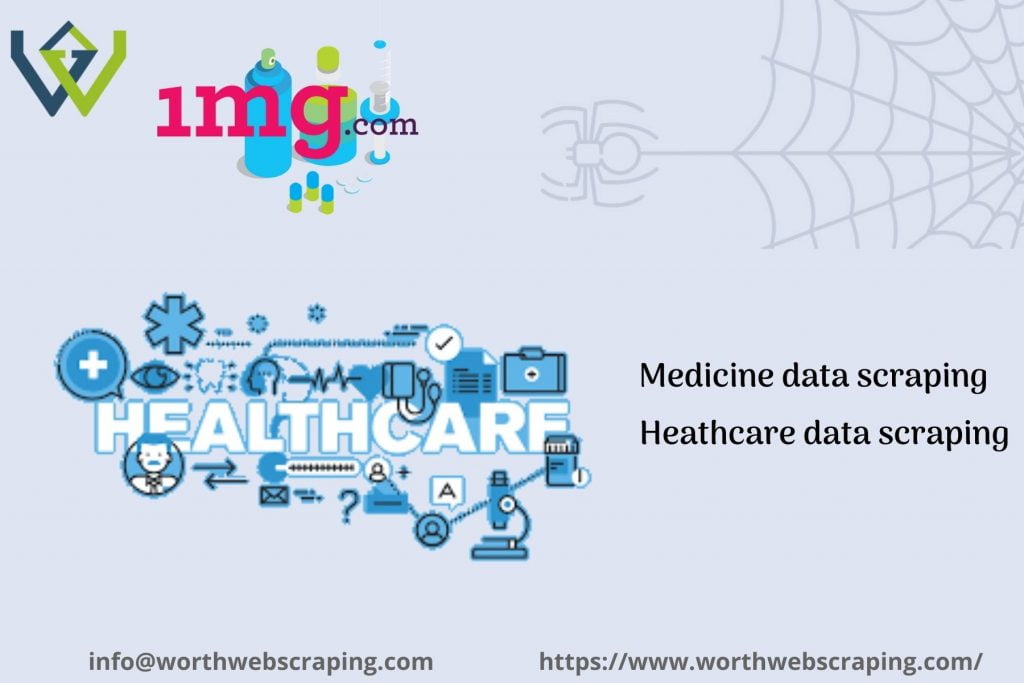 Are you looking for ways to extract medicine and Healthcare data from 1mg.com? You are at the right place.
Medicine data scraping is automated way to collect medicine and healthcare data from various websites and provide that data in to XLS, CSV. These data are helpful for online medical store to gather all details about all medicine, which medicine selling is more, reviews & rating and more data.
1mg.com is a well-known and leading pharmacy and healthcare website in India. The website contains lots of prescriptions, Over-The-Counter medicines, and medical equipment like thermometers, masks, and sanitizers. Being a good source of prescriptions, medicines, and medical equipment, 1mg.com provides its users with useful data about medicines prescribed by doctors and avenue to buy the medicine. On 1mg.com, users can filter medicine by brands, companies, class, ailments, etc.
Useful medicine data that can be extracted from 1mg.com include the following:
Brand name
Product URL
Manufacturers
MRP
Primary use
Pack info, including size
Listed Price
Prescription required
Description
Image URL
Number of views and bought
The best way to extract medicine data from 1mg.com, especially when you need to extract a large amount of data, is to use professional web scraping services.
At Worth web scraping services, we have expert web scrapers that well-experienced in providing medicine data from 1mg.com and other various pharmacy websites and apps like iTriage, MPR, Lexicomp, Epocrates, Medscape, Saydl, RiteAid, Practo, PillPack, PharmEasy, OptumRx, NowRx, Netmeds, MedPlus, Medlife, etc. We provide customers with the best medical data scraping services to scrape or extract medical data from any medical website.
With the medical data from 1mg.com, you can extract orders of your medicines, consult a doctor online, save medical records, track the given order, check rates, rate the items purchased, and more.
To become successful in the pharma sector, it is very important to crop up with the ways to collect and present data in informative and innovative ways to customers and patients. Our web scraping services provide a wide range of solutions for the pharma industry. Healthcare companies can gather information, monitor, and track how the healthcare products are being received, utilized, as well as implemented in various locales.
It provides comprehensive and safer access to data helping healthcare professionals to get the right decisions that ultimately result in the better clinical experiences of the patients.
Contact Worth web scraping services today, our web scraping gives healthcare experts access to the enterprise-wide data and also simplifies the procedure of data alteration for predictive reports and analysis. Meanwhile, check our sample data of 1mg medicine data scraping.